Claudia Mendonca is a freelance Artist, Illustrator and teacher, based in Gauteng. Born with a passion and fascination to create and visually capture what is seen and observed as accurately as possible.
Encouraged by her parents, she pursued art as a school subject and later, after completing a year and a half at East London technical college, studying through PE Technikon, exploring both fine art and graphic design, she decided she was ready to go into the commercial Art world.Not wanting to be a fine artist or a graphic designer, found that being a freelance artist / Illustrator allowed her more freedom to explore a variety themes.
Since 1999 she has been commissioned to paint original Art pieces, Portraits, Mural Paintings, Chalk menu boards, Painted Sign Boards,Corporate Educational and medical Illustrations, Cartoon Character creation and Cartoon strips. In 2013 Claudia started teaching Art at schools to kids and adult . Together with her sister, they started the Expressions Kids Club which involved organising and creating kids Arts and Craft activities for kids holiday camps. In 2016 they expanded into a school, and ran successfully till 2020.
Realising it was time to re-invent herself and focus on the new challenge of fine art.Claudia decided to create a brand name for her art, called Energy Art exploring how art can be used as a tool for healing and expressing emotional energy in a constructive way.For the last 2 years has had the opportunity to spend time creating and producing Original Art pieces, for no one else other than for her own pure joy. She has sold a few pieces, but is yet to have an exhibition.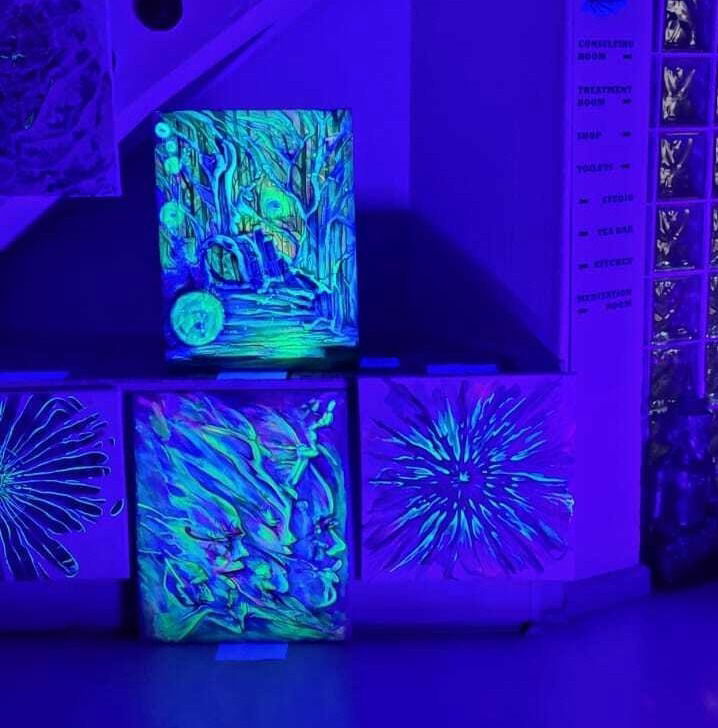 These paintings were created from the concept of being a conduit that creative energy can flows to and through me, not from me, to visually express unconscious thoughts and feelings and values. Closing my eyes I take a deep breath, sometimes with no thought and other times focusing/meditating on a value I want, like courage, I allow creative source energy to flow, and give a visual representation of what it could look like. I find the spontaneous process of painting by faith very rewarding and therapeutic, switching off the internal critic allows me to freely enjoy the moment of playing with watered down acrylics colours.I randomly choose a colour and add it to the canvas then splash the colours around giving them the freedom of moving and mixing in their liquid state.Once it dries I look for shape that start coming out, really get the imagination going.I love capturing the energy of colours and adding florescent colours, especially yellow, and metallic golds, silver and white to play with light, getting glimpses of sparkle depending on your perspective, bringing it to life.
These painting where created during covid, capturing the energy of isolation, social distancing, living in a bubble, creating a safe, happy place, masks, protection, space, fear of unknown, finding our inner wisdom, to know which way to go and the courage to face adversities, in our environment, circumstances and experiences. Covid has been a catalyst for my journey of re – discovering of who I am, asking the hard questions of what I really want, being honest.Realising that when I started asking the why of wanting, I realised what I wanted was not material, but strong masculine values like wisdom to make the right decision, security, courage, authenticity, integrity harmony that will equip me to enjoy my journey with myself and with others.